Christmas represents the busiest time of the year for most retail and service industries around the globe. However, behind any impressive sales figures is an effective marketing strategy and a range of conversion-focused marketing collateral.
Here are four last-minute promotion strategies your business should implement to boost your 2018 Christmas sales:
1. Email marketing with a Christmas flavour
!!! Buy NOW !!! SALE !!!
We've all received emails like this at some point. They clutter our meticulously organised inboxes before they go straight to the trash folder without so much as a second glance.
This is the perfect example of bad email marketing.
However, email marketing (when done correctly) can be extremely effective and produce a great ROI.
Ensure you include good email marketing practices in your Christmas strategy by following the following rules:
Subject line
The email subject line is perhaps the most important element to consider when writing a sales email. Get it wrong and your email won't see the light of day. 47% of email recipients decide whether or not to open an email based on the subject line. Avoid using terms that every other business is likely to use over the festive season.
By late November your customers will be immune to phrases such as "Christmas Sale" and "Seasonal Specials" etc. Instead, think of original alternatives for your subject line, and don't forget to include the recipient's name. According to a study, personalised emails increase open rates by up to 58%. Another study found that emojis in the subject line increase email open rates by up to 56%!
Write a compelling CTA
The call to action (CTA) is extremely important — it's the whole reason for you sending the email. Ensure your CTA is clear, concise, and uses language that evokes a sense of urgency.
Always link to a landing page
You've done the hard work and the customer has opened the email. They've gone ahead and clicked on the CTA. Your customer is directed to your homepage and is bamboozled by the plethora of information available.
They can't find the deal promised in the subject line and they leave.
Many businesses do all the hard work only to fall at the last hurdle and link their CTA to their homepage. Homepages are usually content-heavy and include a lot of irrelevant information from the customer's point of view.
If your customer clicks on a link in your email, they should be directed to a conversion-focused landing page that directly relates to the CTA of that email — creating a seamless experience for your customer.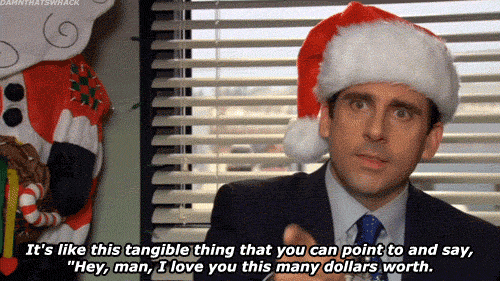 Track the success of your sales emails and conversion rates with an easy-to-use platform like TractionNext. Click here for a free demo

2. Leverage influencer and affiliate partnerships
The power of influencer marketing shouldn't be understated. According to a study conducted by Nielsen and TapInfluence, influencer marketing generates an ROI that's 11x greater than traditional digital marketing campaigns. Influencer marketing helps to build trust for your brand, greatly improves brand awareness and reaches your target demographic.
According to Inc, 88% of consumers trust the opinions of their friends and peers more than traditional advertising.
It's also interesting to note that over 40% of millennials currently use ad blockers on their web browsers to filter ads.
Partnering with an influencer means you can leverage their follower base and put your product in front of them. Coupled with a clever, unique offer, there is great potential to boost your Christmas sales.
But how do you use an influencer?
Designing an influencer marketing strategy for Christmas
Pick an influencer that aligns with your brand values
It's important to align your brand with an influencer who is already engaging with your desired audience. For example, if you're selling fitness apparel for women your ideal influencer partner would be a woman who is actively creating unique content of their own with a strong, engaged follower base.
Reach out to your selected influencer and outline your goals
It's not enough for your influencer to feature your product in an Instagram story just one time. Make sure your offer aligns with the content they're creating. To use our fitness influencer example, if the person in question regularly posts workout videos you should:
Send them free products and have them stream a live unboxing or have them add create an Instagram story dedicated to unboxing the product
Have them wear and use your product in their videos
Make sure they include mentions of your brand in each piece of content
Include a shopping link with the special Christmas sales offer
This is a simple, yet highly effective way to get your product in front of warm audience. Having an influencer create content featuring your product allows potential customers to see the product in action and their trust in the influencer means they're more likely to be incentivised to make a purchase.
Keep track of your marketing campaigns and analyse your influencer's performances with a unified marketing automation platform like TractionNext. Click here for a free demo
3. Christmas competitions or giveaways
Whether your business is online in a physical store, Christmas is a chance to engage with a massive increase in customers. Start these new relationships on the right foot and you could turn these potential one-off sales into loyal brand ambassadors.
A great way of engaging with new and existing customer is by running competitions. Successful competitions can include:
Photo contests
Encourage your customers to take pictures with your brand and ask them to share them via their social media accounts. Use your brand's hashtags to view the entries and the best image wins some free product.
Partnerships
Strategically partnering with brands that naturally align with your brand's offering or core message is a great way to reach a whole new customer base. Remember, a partnership works both ways. What can you offer other companies? A partnerships doesn't have to be another business, partner with an influencer and generate more customers through trusted and respected individuals.
Nominations
Ask your customer base to nominate a person who deserves to win. The community can then vote for a winner, or you can decide yourself. This is a great way to not only increase your brand's exposure, but also recognise people in your local community that are doing great things.
Ready to run a promotional competition for the Christmas period? TractionNext's Competition Module enables you to launch your campaign in 20 minutes and track the results in one place
4. Pricing strategy
When it comes to pricing, 60% of consumers say it's the most important factor when considering a purchase. Ensure your pricing remains competitive by incorporating a few of these pricing strategies:
Product bundles
We all like to feel as though we're getting a good deal. Offer a bundle that works out cheaper than buying the products separately. This is a tried and true pricing strategy that many businesses use over the Christmas period.
Decoy pricing
Decoy pricing plays on the cognitive biases we all have as individuals. Offer a more expensive product as an alternative to make the mid-priced (the item you actually want to sell) more appealing.
You can also offer a far cheaper option, too. However, you should ensure that the mid-priced is the preferred choice — almost as appealing as the higher-priced item, but greatly more appealing than the cheaper-priced item.
Track your Christmas promotions with TractionNext
TractionNext is an easy-to-use platform that seamlessly combines your digital marketing campaigns, customer contact details and communication all in one place. TractionNext allows you to generate key insights from your marketing campaigns and helps you to leverage data to increase your business performance.
Book a free demonstration here, and streamline your Christmas marketing campaigns with TractionNext.